How to Get Started Writing Comics
Last week, I launched the Kickstarter campaign for Plexus #2, just before heading to Thought Bubble to table for the first time at the show. In keeping with the excitement I usually feel on the back of a big comic-centric event, I decided to share the workshop I put together for Octocon on writing comic scripts. Check out the slides below, and don't be afraid to get in touch if you have any questions! The text below is a direct import from Twitter.
In October, I ran a workshop for @Octocon named very simply 'How to Get Started Writing Comic Scripts'.
Let's make a thread using the slides from the workshop. I'm still fairly buzzing about comics thanks to @ThoughtBubbleUK this past weekend.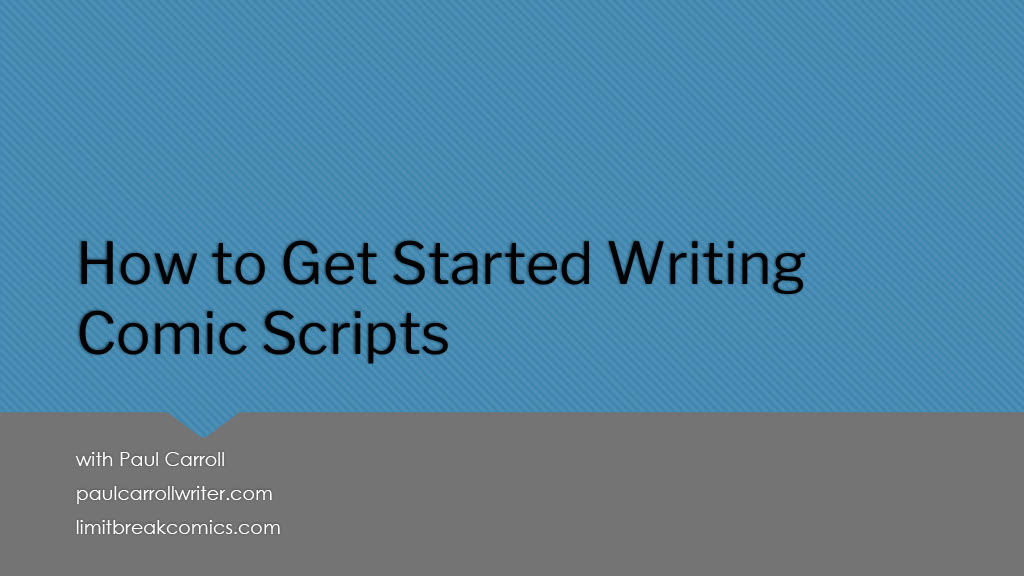 Okay, really simple intro first. Who am I, and what have I written?
I'm a founding member of @lb_comic, and I help run @irishcomicsie
Since 2018, I've published four books:
Life & Death
Meouch #1 (with @garethluby)
Plexus #1
Turning Roads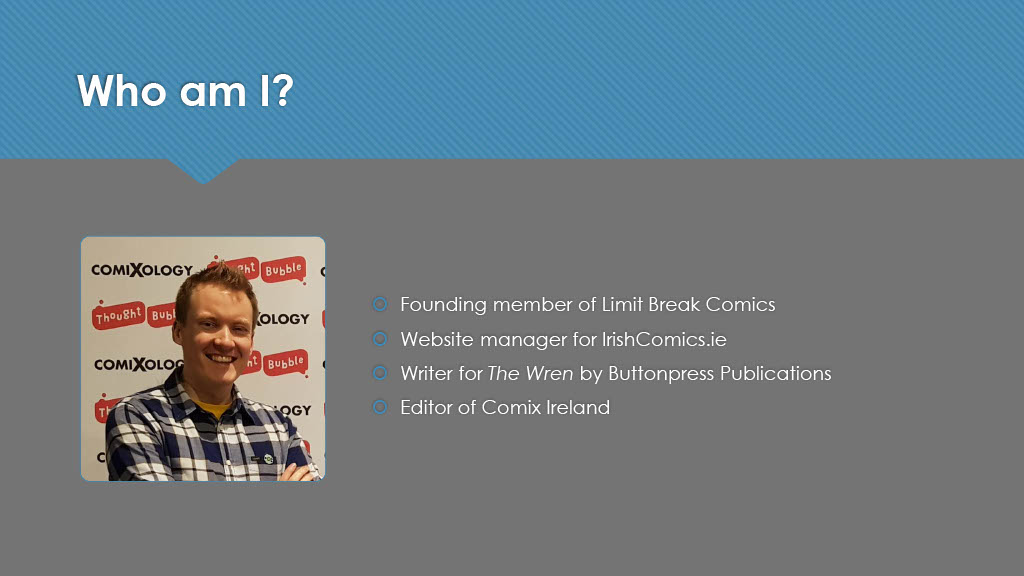 What does a comic writer do?
We get the ball rolling. The whole point is to communicate to the art team what you're trying to achieve.
Include all the necessary info, try not include any padding.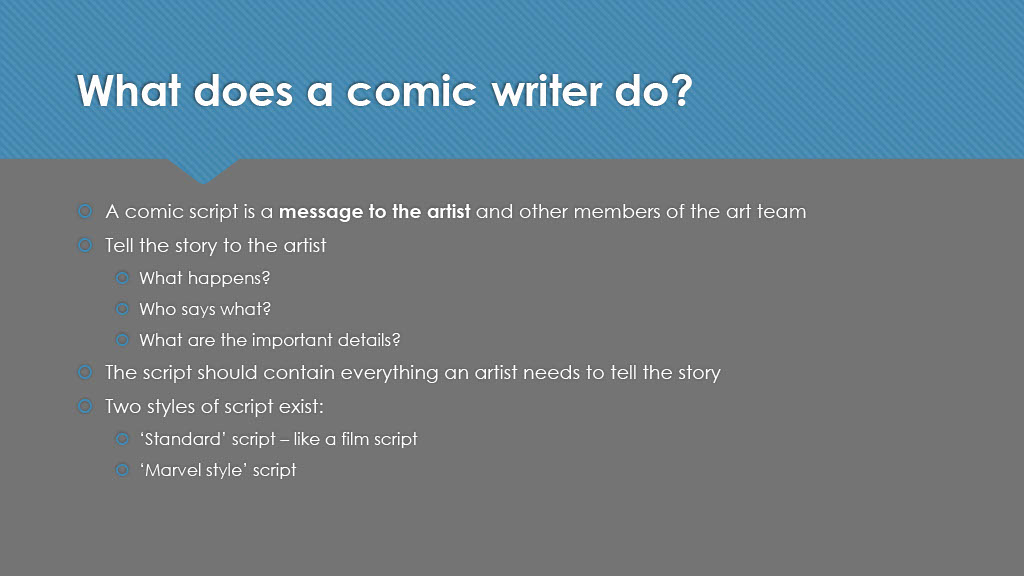 There's no standard format for writing comic scripts, but when working with a script, you'll want to include key details like the number of panels per page, details for the artist, reference images and dialogue and captions.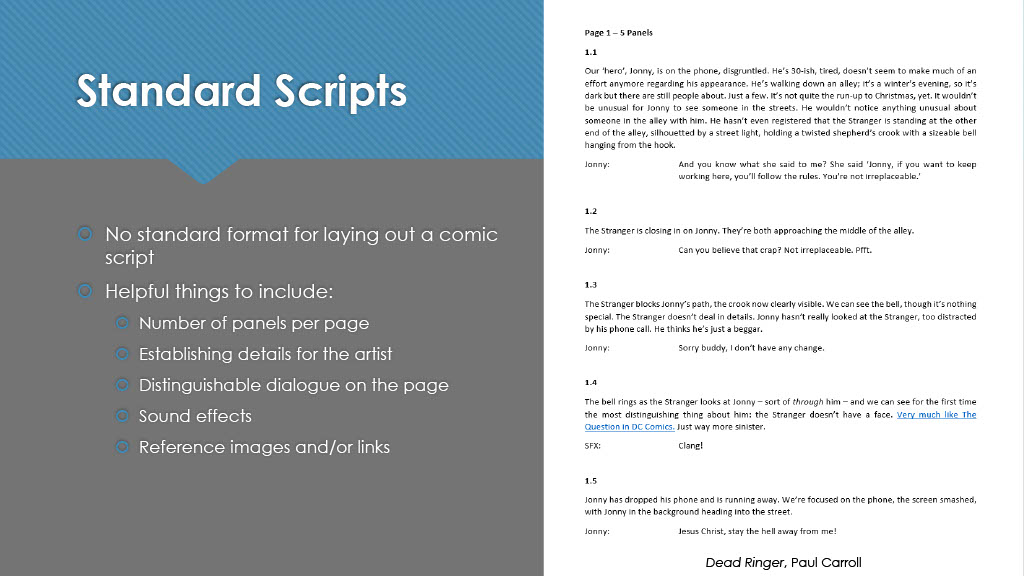 The 'Marvel Style' of writing scripts varies according to the writer.
It's written as prose, rather than in a script format, and can make the artist's workload greater. Some artists still like working in this manner.
Sample from The Hawthorns in Turning Roads.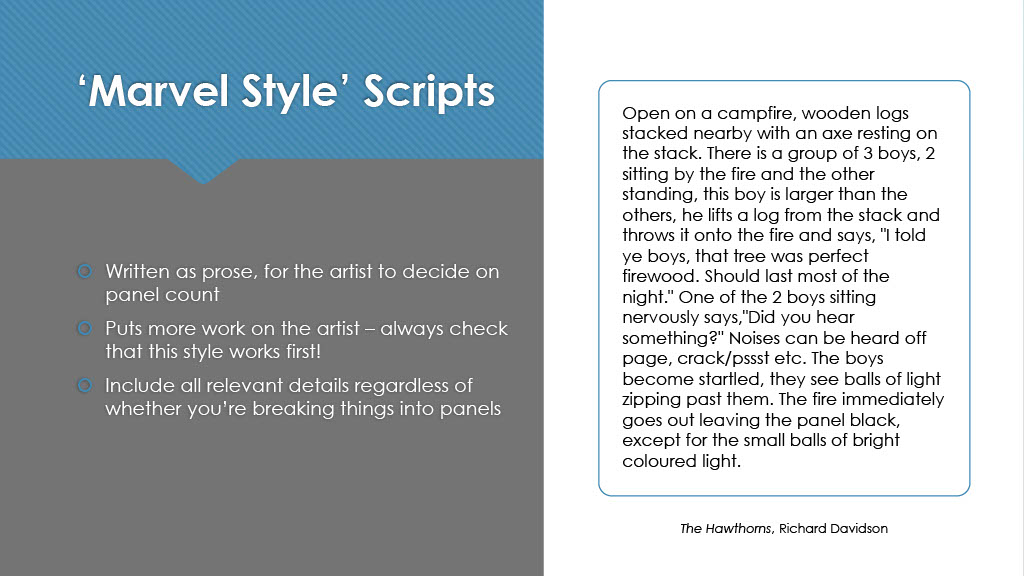 Comic scripts are a numbers game, sometimes.
Key things to remember: don't overcrowd a comic with panels!
@2000AD is a larger format publication, with recommendations for 5-7 panel pages. For US comics, aim for 3-7, but average 4 or 5.
Panel count affects the story's pace.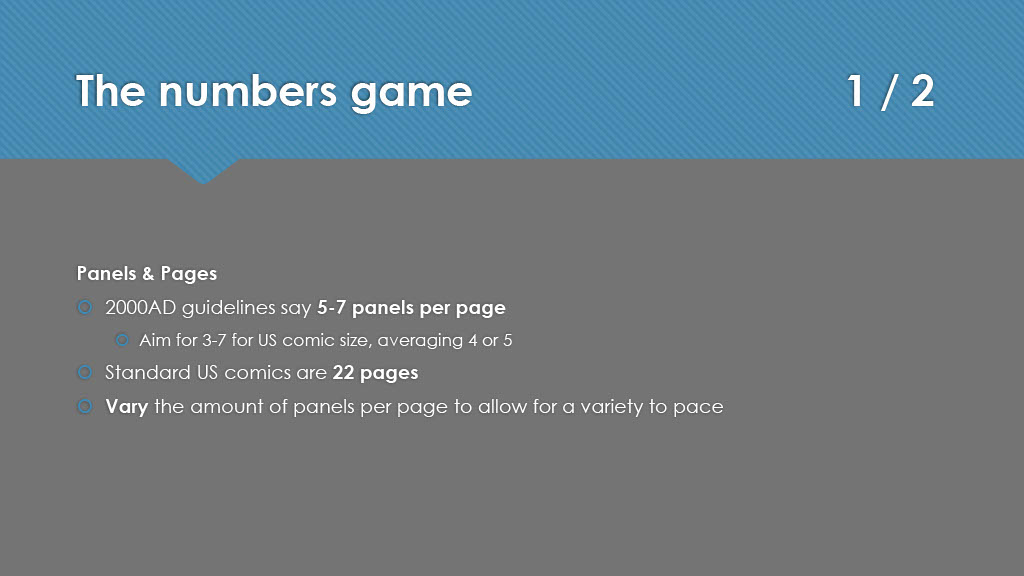 For dialogue and other text, be wary not to fill the page.
Leave room for art. Trim back your dialogue and captions.
2000AD guidelines say no more than 3 text spaces per panel, and no more than 25 words per text box per panel. Scale down for US comic size pages.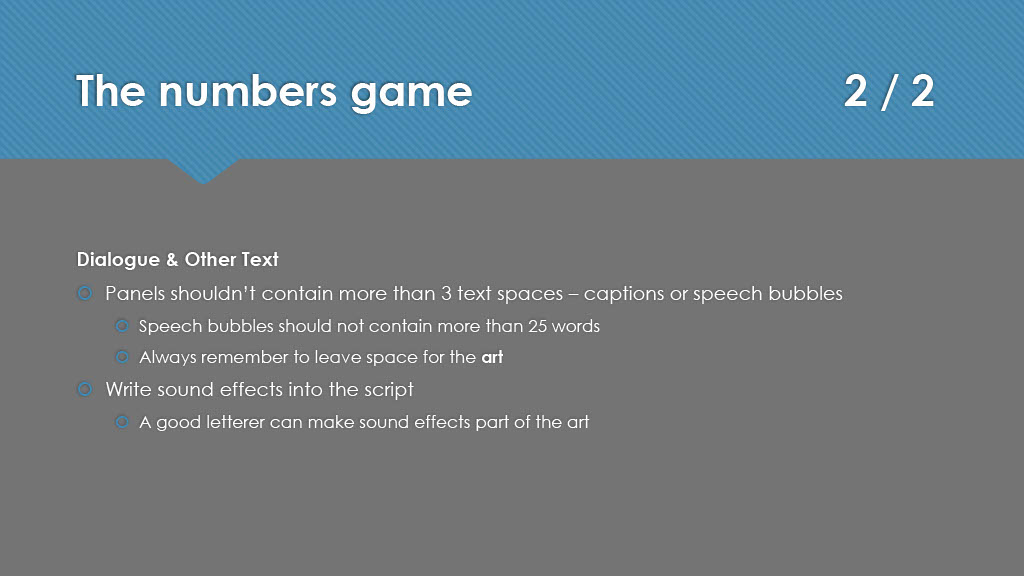 While most writers aren't artists, you can still practice layouts from your own scripts.
The image below shows the sort of page flow you should aim for. Can't recall the source, my apologies.
Writers should always be wary of what's going on after the script has been written.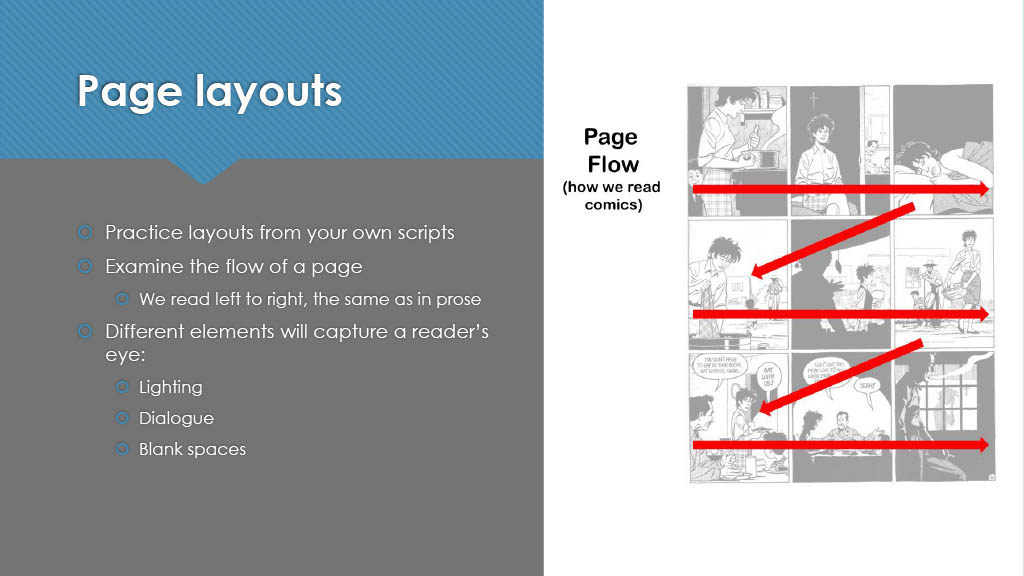 In print, page turns are obvious. They're what you get when you turn the page. Surprises, twists, big reveals, they have greater impact on a page turn.
Those will be your *even numbered* pages in print.
In digital formats, every page offers a chance at a reveal.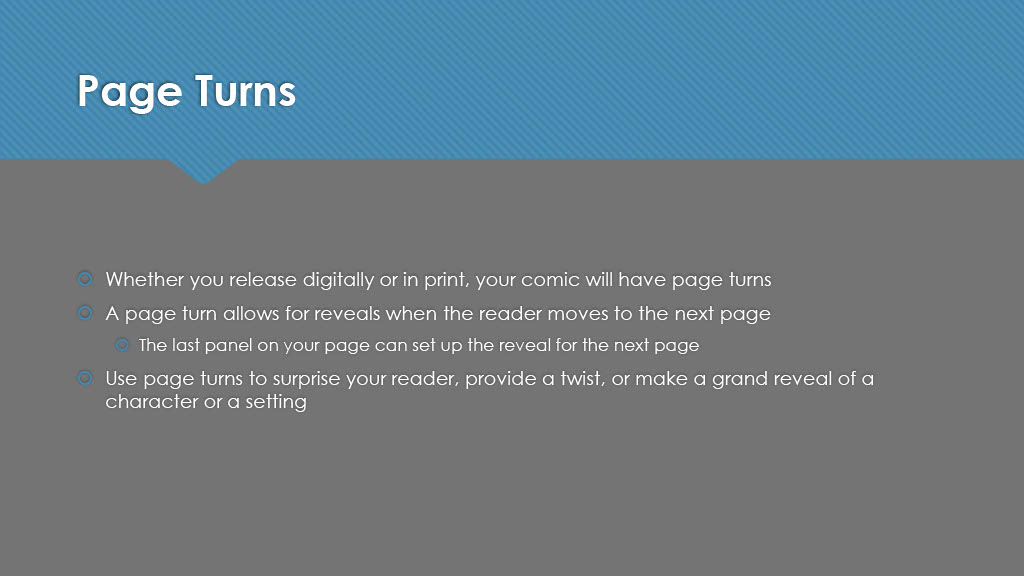 Remember that as a writer, you're just one part of a team.
Learn what everyone does in the creative team, and everyone's lives will be that little bit easier.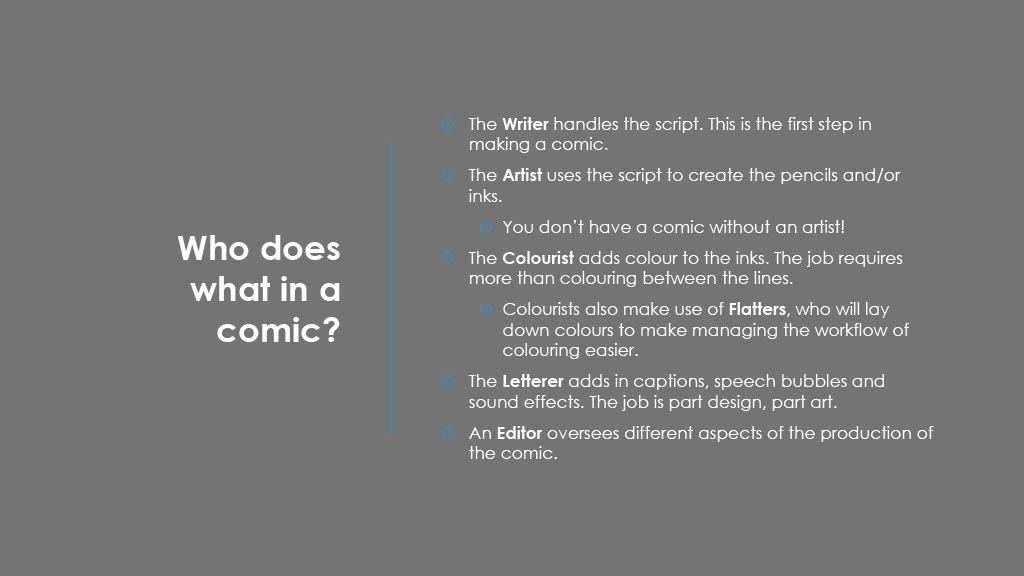 This slide came courtesy of @sxbond's interview with @MikeOwenCarroll during @Octocon
As a writer, especially in small press, you're the one pushing the project from inception to completion.
It's but one valuable job, but a writer shouldn't underestimate their own role.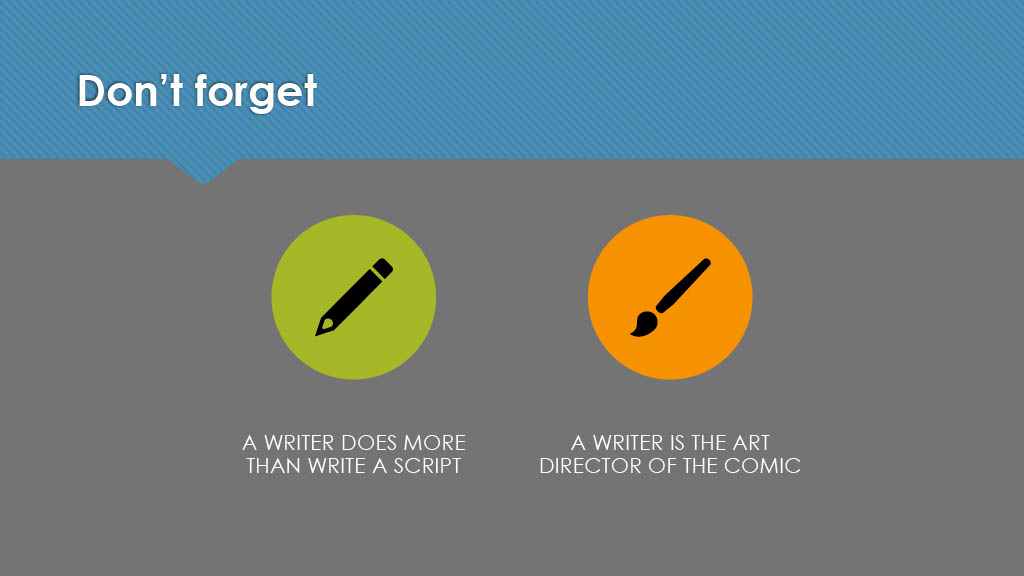 Looking at one page in particular from Meouch, here's the process from script to letters.
You'll note from the original script, a couple of panels were removed. They weren't essential to the story.
Art by @garethluby, colours by @joegriffin111, letters by @HassanOE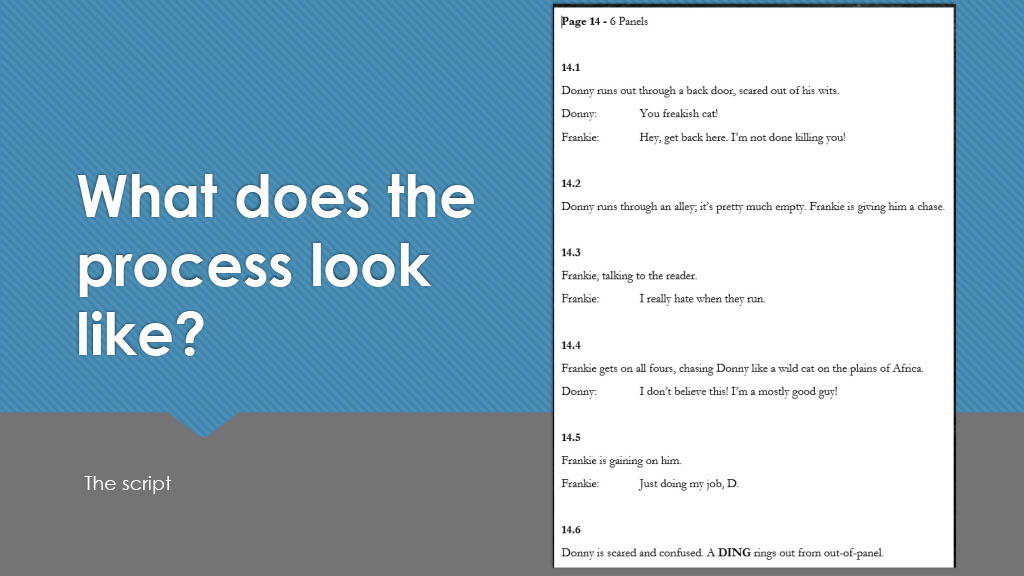 These were some tips for new writers that didn't have another place in the workshop.
Be considerate of who speaks first and where you're positioning them in the script.
Note important details like the time of day and the weather. The colourist will love you for this later.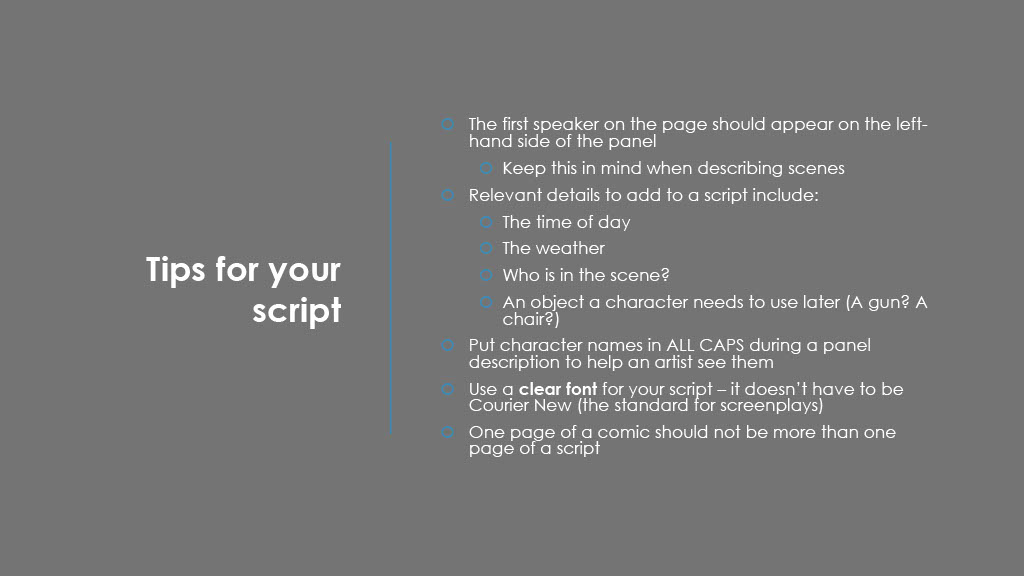 How much you write in a script will vary from writer to write.
I like to describe the whole scene in the first panel description.
Keep character actions limited to one per panel.
Remember your script is for the art team, not the reader of the finished comic.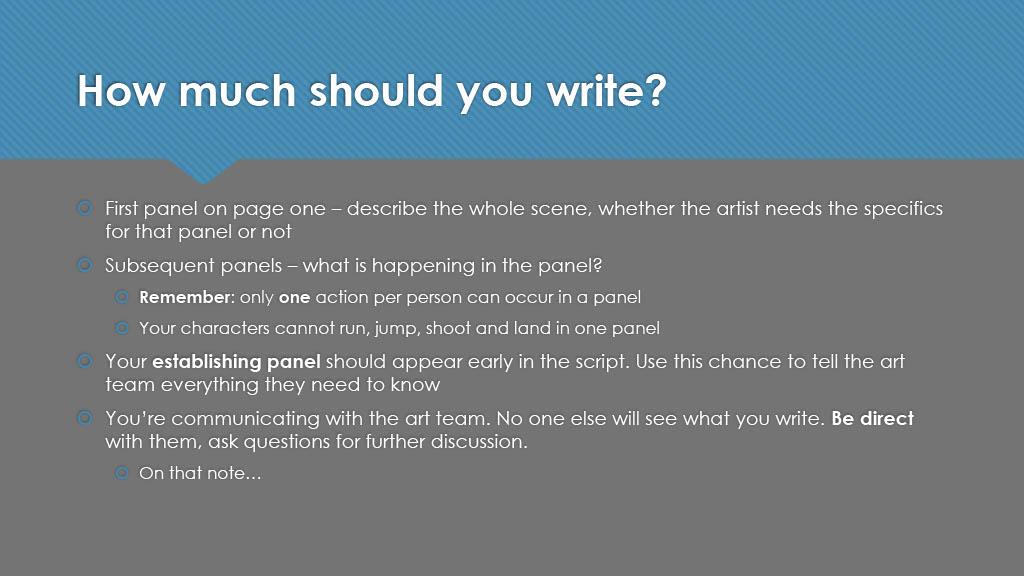 Theatre nerd incoming.
Block out your scenes. How many people are present? Who is visible? Who is doing what?
And remember… you probably shouldn't ask for group shots in every panel. Don't overcrowd your scenes or overwrite the dialogue.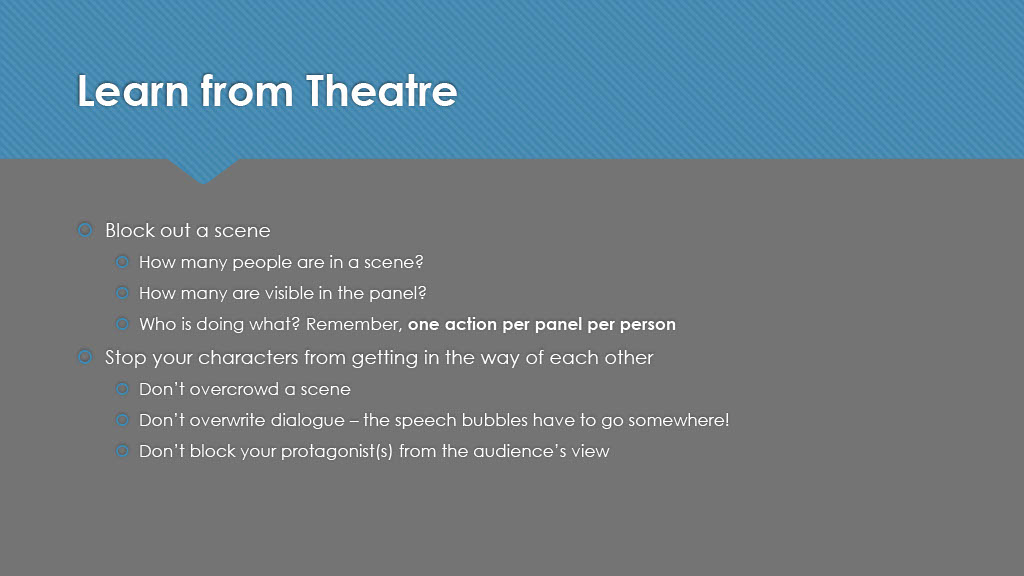 Not to hark on about a single point too much, but this one is important:
COMICS ARE A COLLABORATIVE MEDIUM.
When people argue who is more important, you stop being a team and start being cogs that don't fit together.
Listen to your teammates.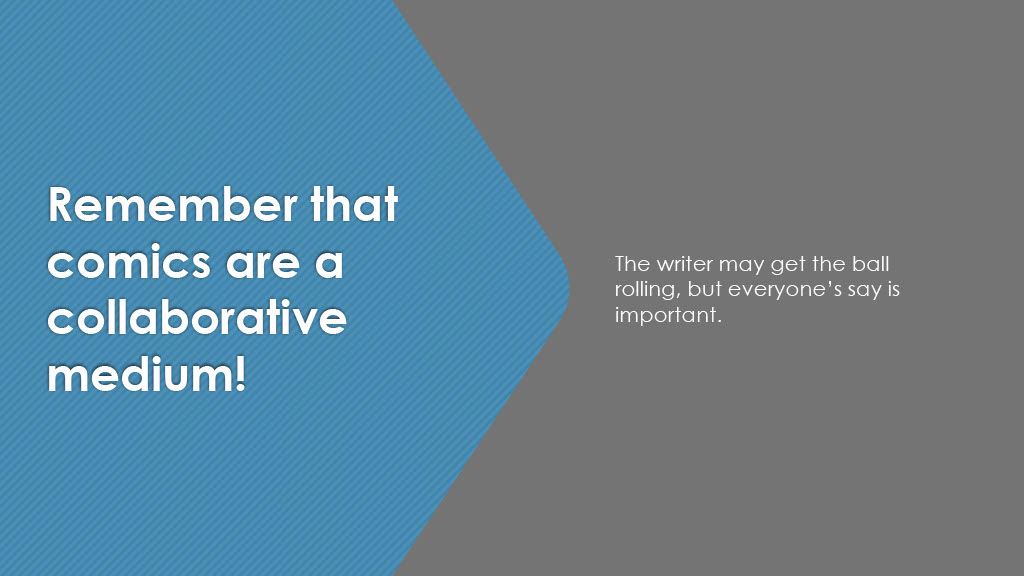 While writers don't go near the art, recognising things like the Golden Rule and the Rule of Thirds from film and photography can help you imagine the scene more clearly in your head.
The better you can envision it, the easier it is to convey your meaning to the rest of the team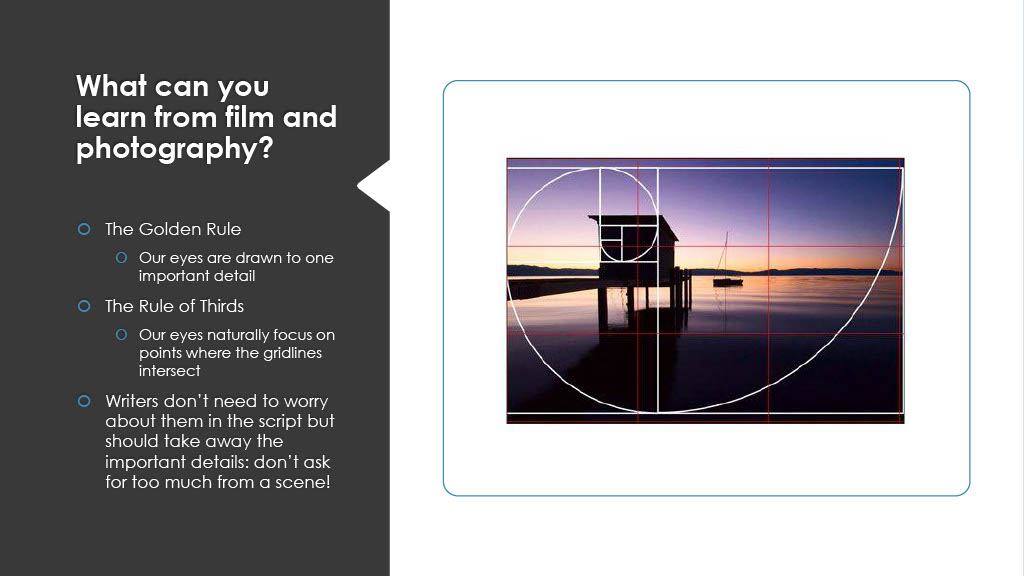 Dialogue advice.
Eavesdrop on people on buses and in cafes.
Listen to podcasts to pick up necessary jargon from industries you don't work in.
Read your dialogue aloud and listen back to it to see if it sounds natural.
Only write as much as fits into an action.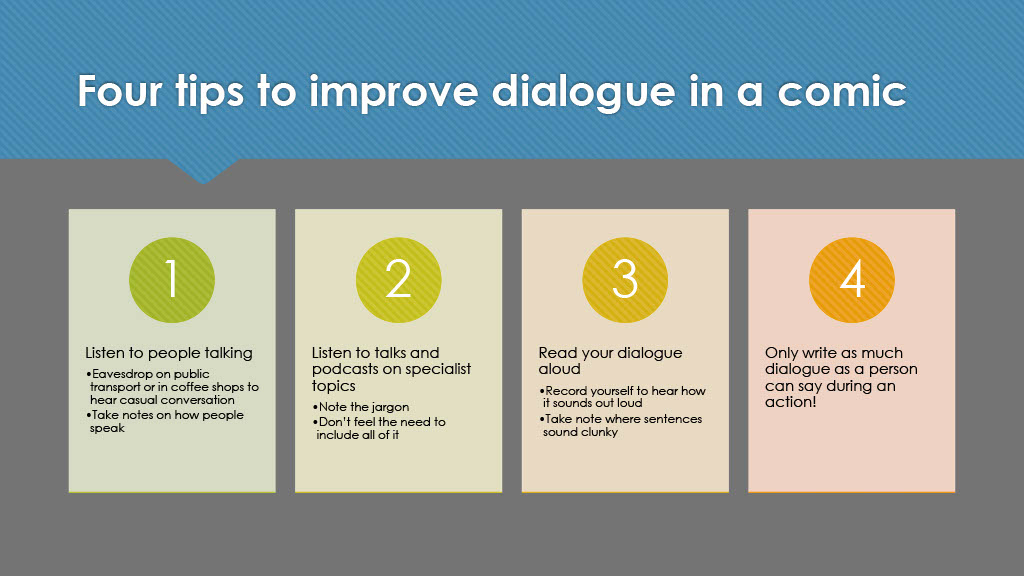 Where can you find collaborators?
Events are handy. In lieu of them…
@CreatorAdvisor is a key resource. Or just put out a tweet from your own account.
Irish creators can also be found through @irishcomicsie, @IrishComicNews, @comixireland and the @DublinComicJam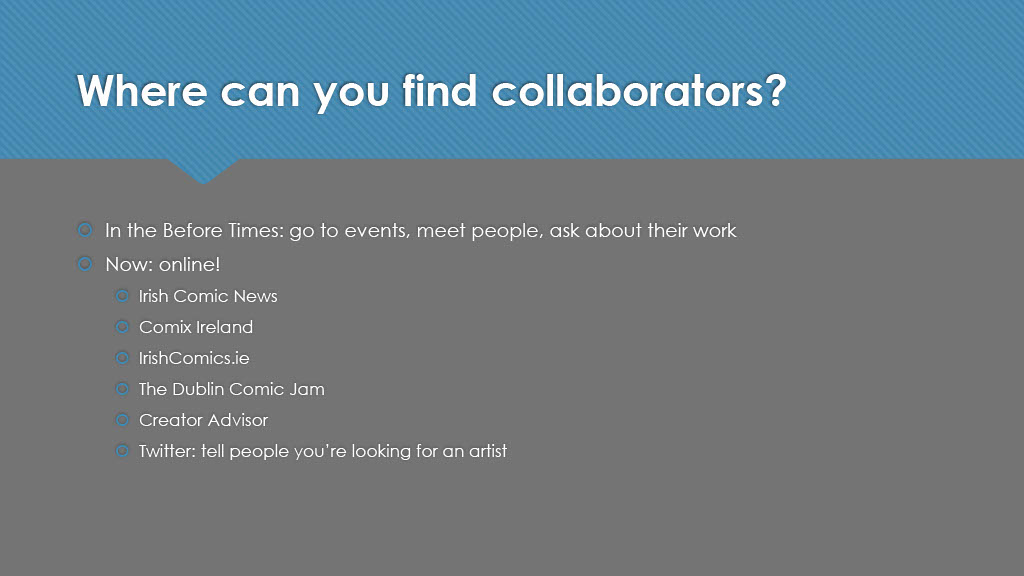 How do you pitch a story to an artist?
Email is best.
Tell them what the story is about, how long it'll be, and how you plan to release it.
Ask their availability and page rate.
Attach a pitch doc if you have one.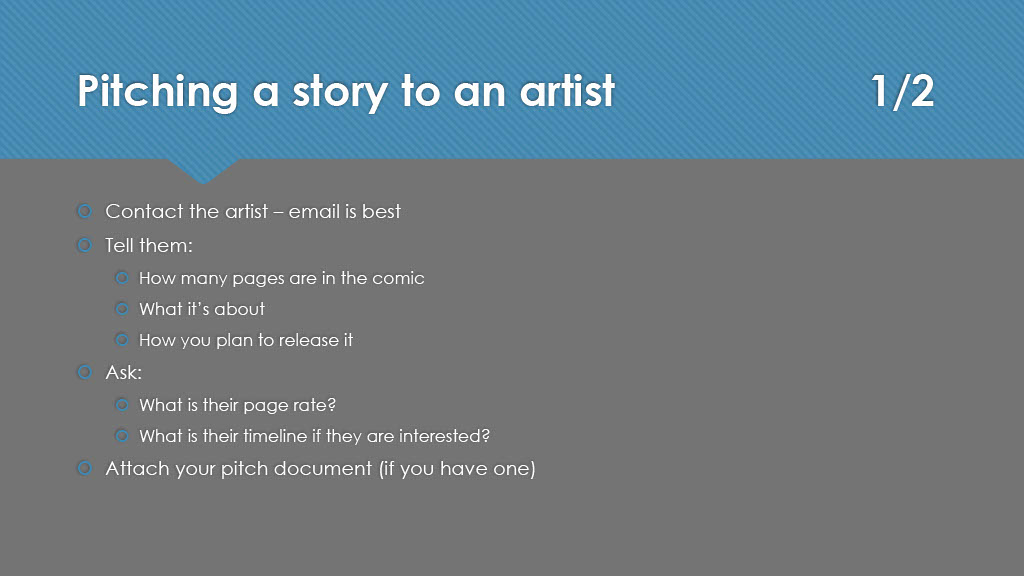 My pitch docs include the concept, a summary, the tone, the length of the comic, and a publication plan.
If you're approaching an artist who doesn't know you, tell them your comics history if you have one.
Pitch in the image for Dead Ringer with @GavinFullerton1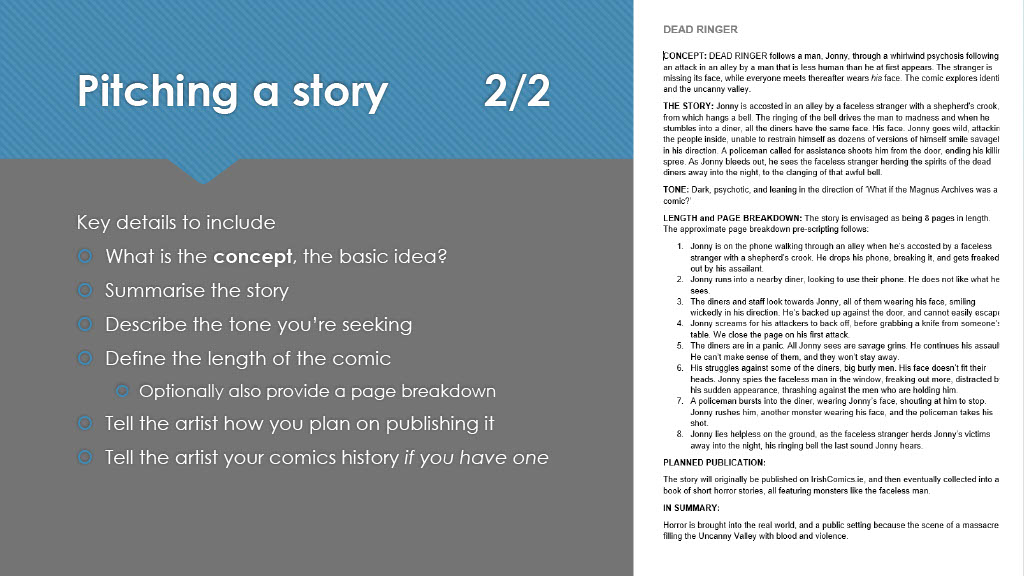 When pitching to anthologies, like @lb_comic's DOWN BELOW:
Keep the concept, tone, story length details, summary
Remove the publication plan – the anthology is the plan
Add in creator bios. Sell yourselves.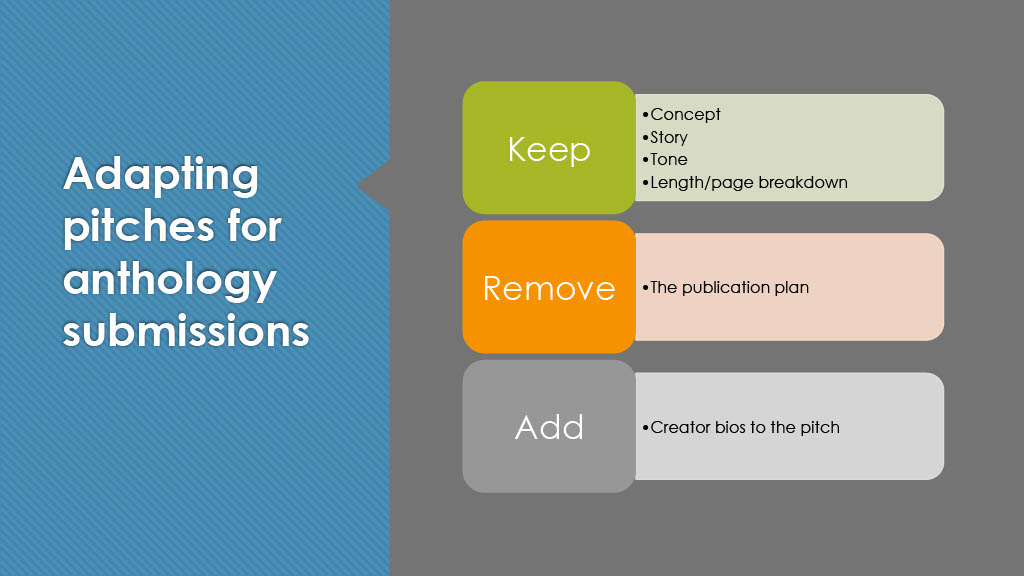 Make sure your portfolio contains comics.
Start with short pieces you can post online.
Use a dedicated website to show them off in one place. Editors shouldn't have to go looking through your Twitter or Instagram.
Keep it updated.
Make a PDF in Word if you can't send a link.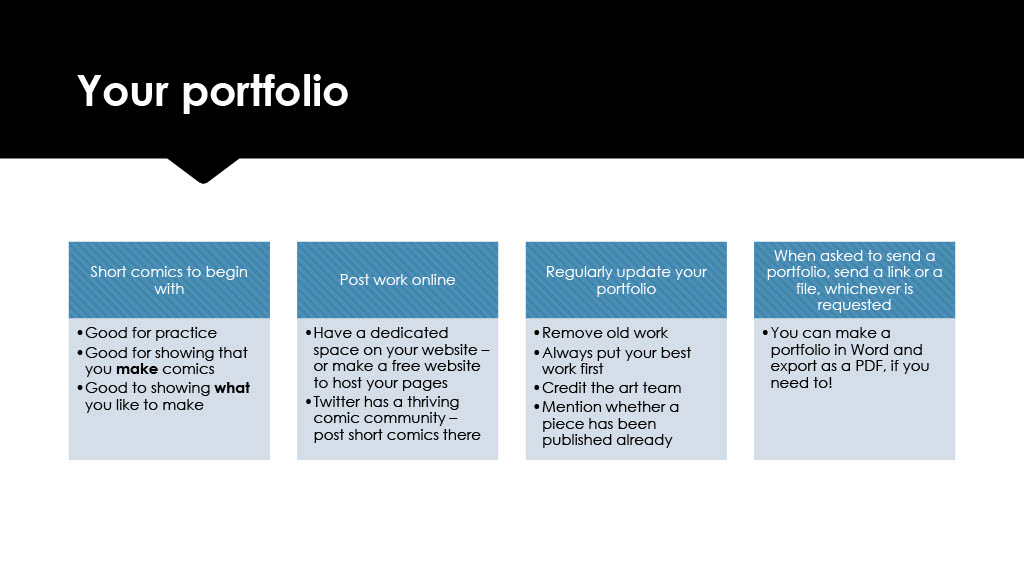 Key tips:
Read the guidelines carefully.
Pitch within the genre and page count, and before the deadline. For Turning Roads, I had pitches fail in at least one of those three areas.
When the book is themed, aim to be as original as possible. Your first idea isn't always best.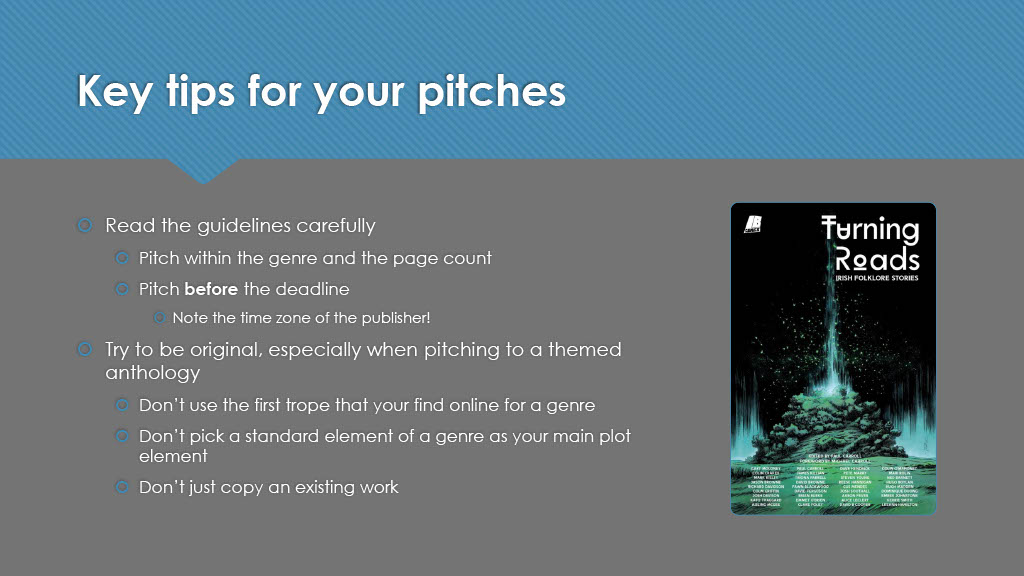 When releasing your comics, choose how you do it.
Digital comics can be distributed for free.
Physical books need some investment. Decide how you approach the 'label' idea carefully.
See @ComicPrintingUK for printing standards. NB: BLEEDS.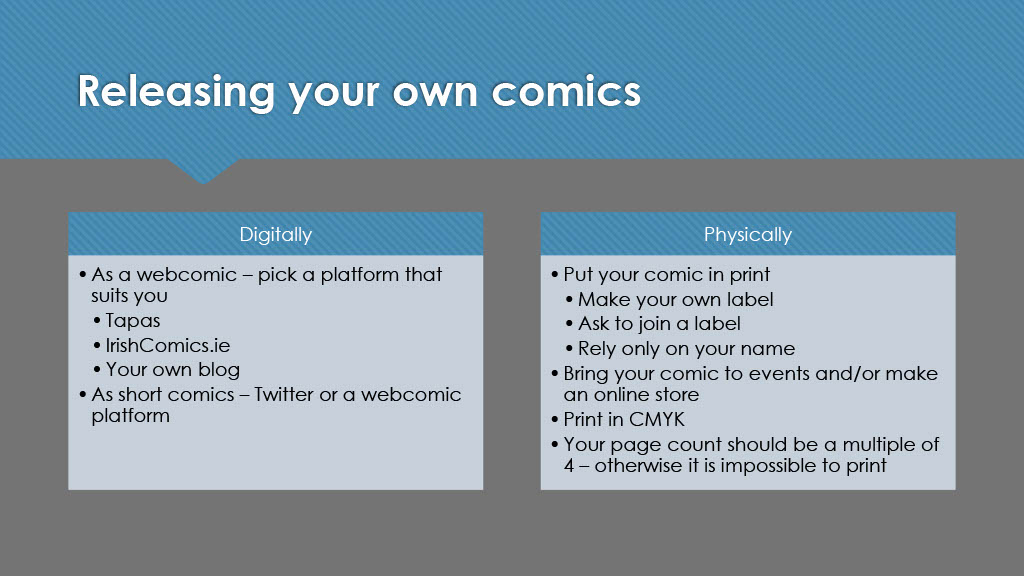 Okay, that's the end of the slideshow.
Ask questions if you have them. Share your thoughts.
Check out my Kickstarter if you fancy it.
Originally tweeted by Paul Carroll 📚✒ back PLEXUS #2 on Kickstarter (@writeranonymous) on 17th November 2021.
[Update: 19/11/2021: the text in a tweet in this thread erroneously said 25 words per panel, when it should have read 25 words per text box per panel.]